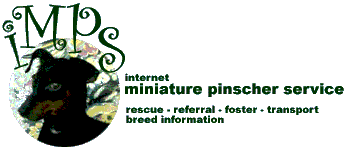 IMPS can always use your assistance in the form of donations. We need stamps, leashes, collars, crates, toys, blankets, and at times veterinary donations. Please contact Nancy at vinnysnag@gmail.com if you are able to make any sort of donation.
Monetary donations can be mailed to:
IMPS, Inc.
P.O. Box 176
Pinellas Park, FL 33780
Please make checks payable to IMPS.
Please send PayPal payments to impsreimb@gmail.com
*** If you are sending a donation for a specific dog or are adopting a dog, please indicate the dog's name and IMPS ID number in the notes section before you submit your donation.***
If you wish to make payment using Zelle®, please send to impsreimb@gmail.com
If you wish to make payment using CashApp, please use cashtag $IMPSInc

Appreciated Stock as a Charitable Gift
One of the most satisfactory ways for a donor to give a gift to IMPS, a 501(C)3 charitable organization, is to use appreciated stock. Giving stocks, bonds, and mutual fund shares that have increased in value (and which the donor has owned for more than one year) provides greater tax benefits to the donor than giving cash. Not only can the donor deduct the full market value of the securities but also avoid paying capital gains tax on the appreciation.

Internet Miniature Pinscher Service, Inc. (IMPS) is a not for profit corporation as recognized by the State of Florida Department of State, and is registered with the Florida Department of Agriculture and Consumer Services (registration number: CH9935).
IMPS, Inc. does not retain professional solicitors; therefore, one hundred percent of all contributions come directly to IMPS.
A COPY OF THE OFFICIAL REGISTRATION AND FINANCIAL INFORMATION MAY BE OBTAINED FROM THE DIVISION OF CONSUMER SERVICES BY CALLING TOLL-FREE WITHIN THE STATE, 800-435-7352. REGISTRATION DOES NOT IMPLY ENDORSEMENT, APPROVAL, OR RECOMMENDATION BY THE STATE.
Internet Miniature Pinscher Service, Inc. (IMPS) is exempt under section 501(a) of the Internal Revenue Code as an organization described in section 501(c)(3). However, it is suggested that you consult your tax professional for a determination as to whether any contributions may be tax deductible.
IMPS thanks you for your kind support.